Good afternoon! I suppose since I am the first member to sign up, I get to start the first vacuum cleaner thread on this forum!

Anyway, being a collector of vacuum cleaners, I have an appreciation for all types, from the oldest to some of the newer vacuums. One of my personal favorites that I would actually classify as an antique are what we commonly call coffee can Hoover cleaners. The first vintage vacuum cleaner I remember purchasing was a Hoover model 300! I have owned many different models since then, still have a few of my original collection that I put in a storage building shortly before my basement flooded and I lost everything in it! I know my old model 300 survived, and I believe an 800 survived as well. Since I lost most of my vacs I had, I have began trying to rebuild that collection and have purchased a couple more old ones. I have a model 700 in excellent shape that runs perfectly and looks awesome (would like to post a photo of it, but I'm not sure how to yet!), and I have recently purchased a 541 Hoover and am waiting on it to arrive in the mail. My plan is to totally restore it to it's former glory, but that could take some time!
My ultimate piece I want to add to my collection before I kick-off is a Hoover Model 0, now I know they are as scarce as hen's teeth, but I am keeping my finger's crossed that some day, one will fall into my lap! Well, have to run for now, but thanks for creating this forum and I look forward to meeting and interacting with other members as they join!
Steve
I also love the antique "coffee can" Hoovers. I recently restored my model 541. When it came in the mail, it wasnt in the greatest shape. Restoration takes some time but it definitely is worth it. I would also like to find a Hoover baby model 103 and a Hoover model 700.

-Cody
Cody,
I absolutely LOVE my model 700, I have had some really nice Hoovers in the past and even now, but to be as old as it is, this machine absolutely POPS! It's motor is as smooth as silk and has a ton of suction! My 541 hasn't arrived yet, but I am really excited about getting it in and going through it. I agree that a full restoration does take some time, but to me, the rewards totally outweigh the negatives of it, and where I work on computers all day, that's kind of my relaxation time, it's how I unwind from a stressful day. I recently restored a Model XXX Electrolux to it's former glory and as much as my wife doesn't care about my hobby, even she had to admit it turned out amazing!
On a side note, I just won a Model 425 Hoover from eBay for less than $35 shipped! I couldn't believe that nobody had placed a bid on it, so I popped one in and actually won the machine! I am completely stoked on that one! Don't know all that much about 425's, so I'll have to research it some before it arrives.
Now if I can figure out how to get this photo thing going, I'll upload a photo of my model 700!
https://i.servimg.com/u/f80/18/26/54/54/t2ec1611.jpg
I finally took a picture of my restored Hoover 541. Here it is: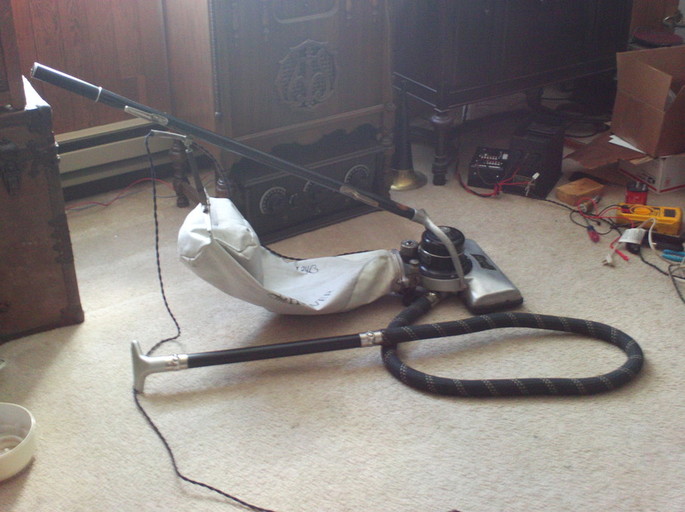 Cody, that is indeed one BEAUTIFUL machine! One day I hope to have mine looking that good! One question thought, it appears mine has the vinyl type cord on it and I would like to put a cloth covered one on it, where did you find the cloth cord for yours, or was the original one in good enough condition to re-use? Thanks!
I buy my cloth covered wire at Sundial Wire. Since I restore many different electric antiques, I buy lots of cloth covered wire from them and their wire has proven to be of high quality. They sell it in all different colors, braids, guages, and styles. They even sell reproduction 1920s button plugs if your 541 is missing the original plug. The 541 originally had a 2 conductor black cotton twisted cord, so thats what I bought for mine.
Here is a link:
http://www.sundialwire.com/
Thank you! That is exactly what I need! My 541 should arrive tomorrow so I should be able to determine what all I will need for it when I get it!
Awesome I am glad you found your favourite vacuum!!



Posts

: 1


Join date

: 2013-07-06





Similar topics
---
Permissions in this forum:
You
cannot
reply to topics in this forum